The Maldives Payment System Development (MPSD) project is a multi-phase initiative by the MMA to address key needs of the Maldivian economy. Increasing the end-to-end speed of payments while ensuring the efficiency and safety of the payments system is given primary importance. With the future of payments in mind, the system will be open and flexible to accommodate and foster innovation and competition in the Maldivian payments space.
Instant Payment Infrastructure
Payment Platform
Digital and Integrated Solutions
Timeline
Instant Payment Infrastructure
Banks
All commercial banks in the Maldives will be connected to the system. They will all contribute to and jointly function as Account Information Providers. Banks can be both Account Information Providers and Payment Service Providers.
Service Providers
Payment Service Providers can utilize the instant payment infrastructure to provide digital, integrated and even embedded payment solutions to users.
End-Users
Consumers, businesses and the government will have access to digital and integrated solutions with overlay services.
Infrastructure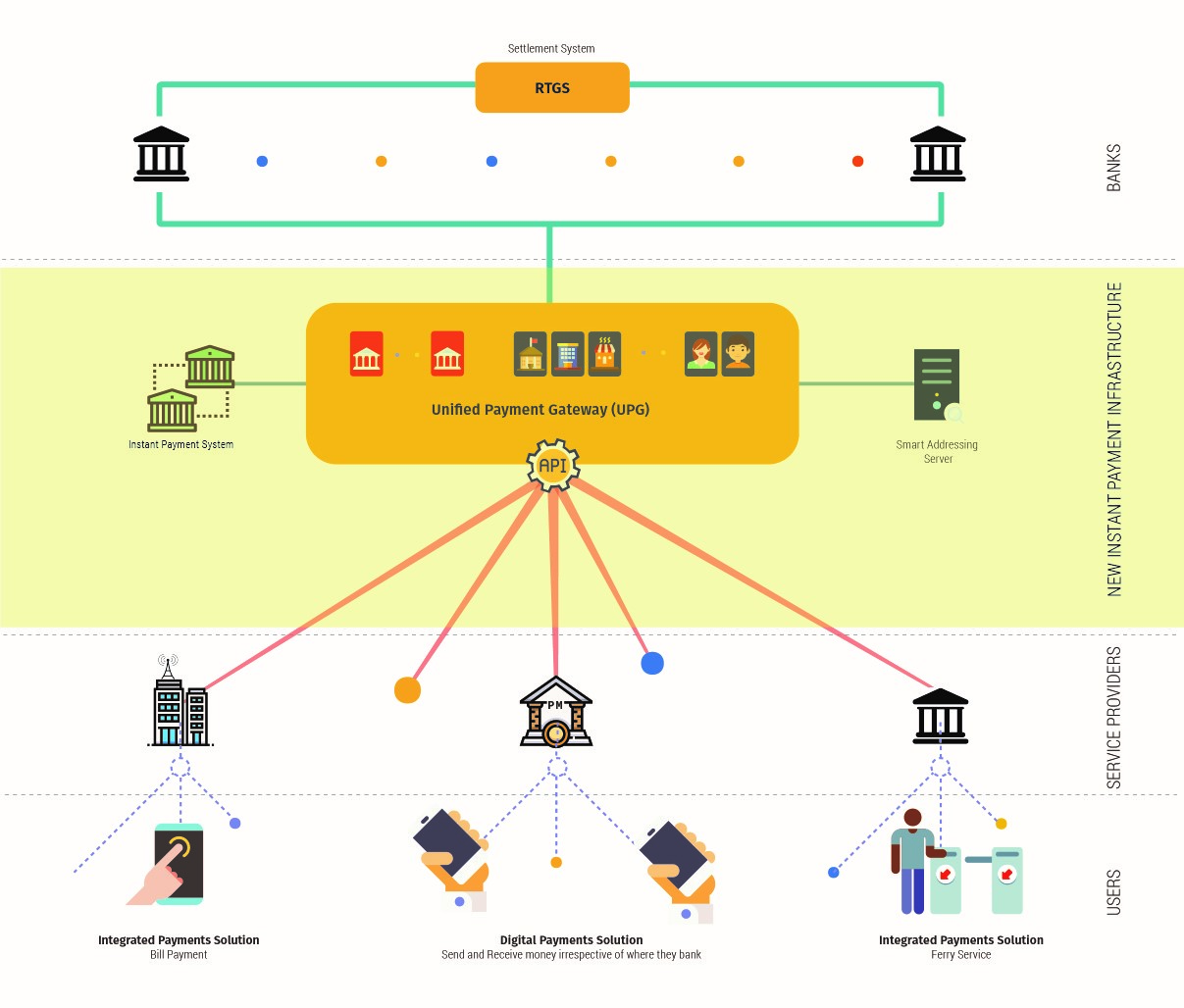 The core infrastructure will comprise of the following:
1. Unified Payment Gateway
2. Instant Payments System
a. Real-time Clearing
b. Smart Addressing
1. Unified Payment Gateway
The Unified Payment Gateway (UPG) is an API based access layer that unites all modules of the solution. It also facilitates Account Information Providers to provide account information through the gateway to Payment Service Providers, based on a set of System Rules that are in line with the legal framework.
UPG enables the customers to view and manage multiple payment accounts through a single interface, consolidating various financial features including seamless fund routing and merchant payments.
Additionally, the UPG will provide an avenue for banks and non-bank payment service providers to conduct digital Know Your Customer verification through API based connectivity to relevant national registration databases.
The UPG features a flexible and modular design, and as such, can be scaled to provide additional services. This paves the way for banks and non-bank payment service providers to develop and introduce further overlay services through the UPG in order to offer more value-added services to their customers.
The UPG also has Sandbox services, which provides market players with access to an isolated environment to safely test new API based overlay services – fostering innovation and competition.
2. Instant Payments System
The new infrastructure will be an Instant Payments System (IPS) with an accounts-based domestic payment scheme and will support retail payments. The system will be augmented with the functionality of smart addressing. The IPS supports multi-factor authentication, with multiple layers of security and caters to different types and values of payments.
The introduction of IPS also includes a move to the emerging global standard for payments messaging format, ISO 20022. This move allows for more enriched and better structured data to be passed between banks and non-bank payment service provider.
The IPS enables consumers, business and the government to make and receive payments within seconds – 24 hours a day, seven days a week and 365 days of the year.
The IPS will also introduce interoperability of banks and non-bank payment service providers, bringing tremendous benefits to the payments ecosphere – paving the road for payments to be made to other banks and non-bank payment service providers in a matter of seconds, allowing for account-to-account transactions to be seamless, effortless and cost efficient.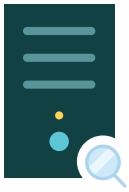 Smart Addressing
Smart addressing will allow customers to make payments using easy to remember tokens, such as national identification numbers, mobile numbers and email addresses.
As such, payment can be made using aliases, decreasing the need to share sensitive information such as bank account number.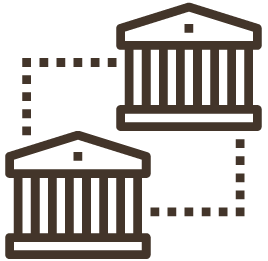 Real-time Clearing
Real-time clearing service allows to make payments in instantly to each other, including government, consumers and businesses.
This service will also allow for liquidity and limit management for banks and non-bank payment service providers.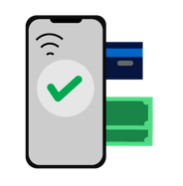 Types of Payments
The IPS allows for multiple types of payments to be made. Credit Transfer may be directed towards one single person or in batches, such as salary payments.
The system also supports Request to Pay which allows for people, organisations and businesses wishing to receive payments to request for payment.
The second phase of the project will be the development of a Payment Platform, which will allow users to make and receive payments instantly irrespective of where they hold their bank accounts in the Maldives through the use of a mobile application.
The Payment Platform is a white-labelled solution that will allow for banks and non-bank payment service providers to provide instant payment services to their customers. The Payment Platform is a readily available solution inclusive of a mobile application and would be connected to the IPS. The white label solution would be designed with basic payment functionality and simply requires re-branding to reflect the respective service provider. Consequently, this solution would drastically decrease the time-to-market of introduction of IPS services to their customers.
Additionally, the white-labelled solution would allow for banks and other non-bank payment service providers to circumvent the difficulties associated with development and integration, as well as the costs - in time and money - of maintenance that are typically associated with custom-built mobile applications.
The solution will utilize the wallet structure within the platform, meaning that all banks and non-bank payment entities in the Maldives will have a fast and reliable option for providing their customers access to a digital solution which supports instant payments. The Payment Platform will allow for funds to be transferred between wallets and bank accounts in a variety of ways.
For example: Aisha uses white-labelled mobile application to send instant payments to Ali.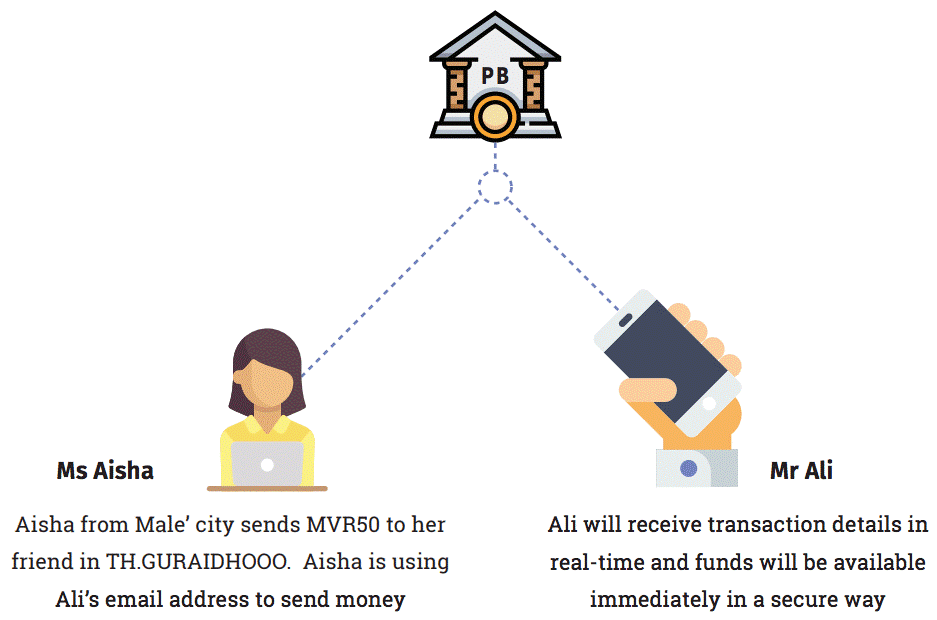 Functionalities of the Payment Platform

Linked with bank accounts
Users will be able to link their bank account to the wallet in the Payment Platform.

Manually topping up
Users top up an amount of their choosing by debiting from their bank account and crediting to their wallet in the Payment Platform.

Top-up via International cards
Users will be able to top up their wallet by using an international card scheme.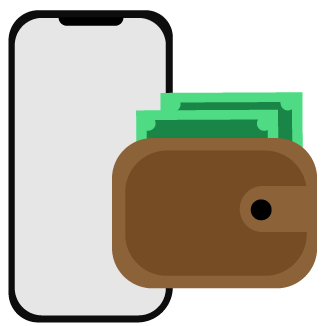 Transfer money from wallet to wallet
Users will be able to transfer money from the balances in the wallet within the Payment Platform to other wallets.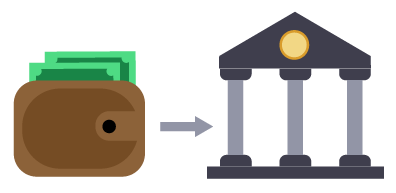 Transfer money from wallet to bank accounts
Users will be able to transfer money from their wallet within the Payment Platform to their respective bank accounts.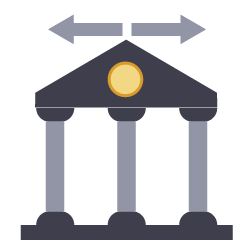 Transfer money from bank account to bank account
Users will be able to send and receive money from bank accounts, in the Maldives.
DIGITAL AND INTEGRATED SOLUTIONS
With the implementation of the Instant Payment System, the payments landscape is expected to change significantly. The new infrastructure opens a world of possibilities for the development of the Maldivian payment ecosystem and will act as a catalyst for innovation. To this end, the system will create opportunities for players in the payment market to develop overlay services that will provide innovative payment services to their customers – leading to a greatly enhanced customer experience in the Maldives.
The open and flexible nature of the new infrastructure will also enable the development of a number of integrated solutions that will cater for multiple segments of the payments domain. Such integrated solutions would lead to the seamless fusion of payment processes and value-added services that are demanded by the consumers of financial services, opening the door for convenient and packaged solutions.
Some of the potential solutions that may be developed by the market players are highlighted below:
Corporate Payments
At present, businesses are highly reliant on cheques, and business operations are often stalled due to the time lag involved in the cheque clearing process. With the introduction of the IPS and the potential it has to facilitate easier payments solutions, banks and non-bank payment service providers can develop convenient solutions for the processing of payments made by corporations.
Corporate payments are generally large value payments made by corporate entities. A solution intended to be an electronic alternative for cheques could be one where the payment initiator and approver can be different individuals from the payee's side. Segregation of duties involved in corporate payments to the two roles of payment initiator and approver would ensure that no single body is responsible for the execution of corporate payments, which would lead to the rapid decline in the risk involved in such payments.
For example: Dream Construction Pvt. Ltd. paying MVR 200,000 to Cement Factory. This transaction will be approved by the manager prior to transaction being processed.

Self-Service Terminals
The system will facilitate fingerprint verification, through API connectivity to national registration databases. In order to capitalize on this functionality, banks and non-bank payment service providers may introduce external terminals across all inhabited islands at convenient locations. These external terminals will mainly facilitate digital Know-Your-Customer (KYC) procedures via fingerprint verification. In addition to this, a range of payment services that can be availed from the digital solution will be accessible via these terminals.
The introduction of digital KYC services through self-service terminals will allow for large decrease in lead time involved in the KYC process. Digital KYC through biometrics verification paves the way for people to access financial services in a quick, paperless manner that eliminates the requirement for physical presence and other tedious efforts such as queuing at the offices of the banks and non-bank payment service providers to perform KYC procedures.
For example: Ahmed uses the self-service-terminal in Dh.Hulhudheli to validate his identity and activate all functions of the payments app

Solution For Tourists
The MPSD project will also facilitate the development of convenient solutions to cater for tourists – a small but significant segment of the payments industry. Banks and non-bank payment service providers will be able to develop solutions whereby tourists can transact in the local currency with greater ease – simplifying the payment experience for tourists as well. Through such a solution, tourists may have access to payment options upon arrival in the Maldives with increased ease, due to the straightforward digital KYC process facilitated by the IPS – allowing for a relatively hassle-free access to payment services, even for a short visit.
The solution will enable digital and integrated solutions and eliminate multiple card transaction charges and foreign exchange conversion charges.
For example: John rents water sport equipment using local payment services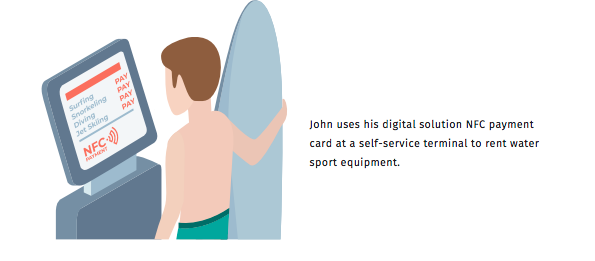 Solution for Regular Payments
Another possible convenient solution that would be possible following the introduction of the IPS would be solutions for regular payments. The system would allow for billers, such as utility service providers, landlords, government agencies, to request payment from their customer, rather than sending an invoice. Consequently, this would allow for these parties to reach their intended customers and facilitate payment to be made in quick hassle-free manner.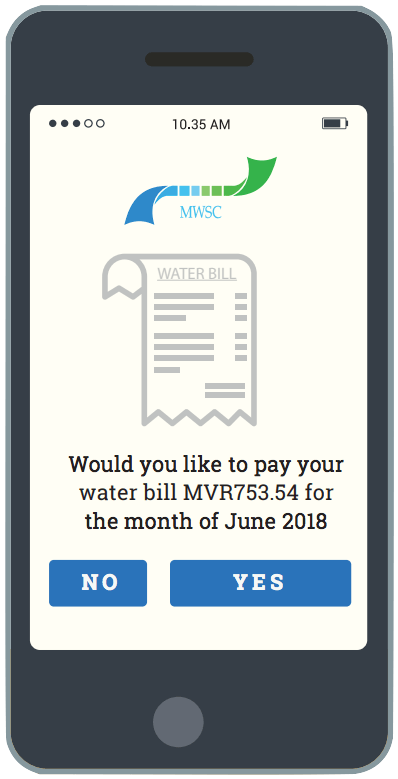 Updated on June 2021