The Maldives Payment System Development (MPSD) is a multi-phase initiative by the MMA to address key needs of the Maldivian economy. Increasing the end-to-end speed of payments while ensuring the efficiency and safety of the payments system is given primary importance. With the future of payments in mind, the system will be open and flexible to accommodate and foster innovation and competition in the Maldivian payments space.
Infrastructure
Digital Solutions
Integrated Solutions
Timeline
The core of the infrastructure will be an API based modular system that comprises of an accounts-based, real-time payments system augmented with the functionality of smart addressing. All banks in the Maldives will be directly linked to the system. It will support seamless integrated solutions combining the payment process and provide convenient, and value added solutions.
Banks
All commercial banks in the Maldives will be connected to the system. They will all contribute to and jointly function as account information service providers. Banks can be both Account Information Service Providers and Payment Service Providers. In future, only banks can be Account Information Service Providers or deposit holders.
Infrastructure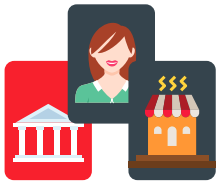 Unified Payment Gateway (UPG)
UPG facilitates Account Information Service Providers to provide account information through thea gateway to Payment Service Providers based on set of system rules that are in line with the legal framework. UPG enables the customers to view and manage multiple bank accounts through a single interface, consolidating various banking features including seamless fund routing & merchant payments. The UPG will include an access layer and a shared service layer.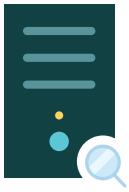 Smart Addressing
Smart addressing will allow customers to make payments using easy to remember tokens, such as national identification numbers, mobile numbers, email addresses and social medial handles.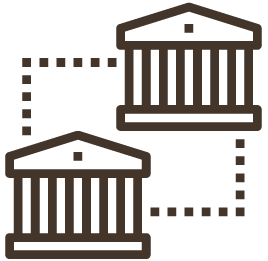 Clearing System
Clearing service allows real-time multilateral clearing of transaction between Account Information Service Providers.
Payment Service Providers
Payment service providers can utilize the payments system infrastructure to provide digital, integrated and even embedded payment solutions to users.
Users
Consumers, businesses and the government will have access to digital and integrated solutions with overlay services.
Payments Infrastructure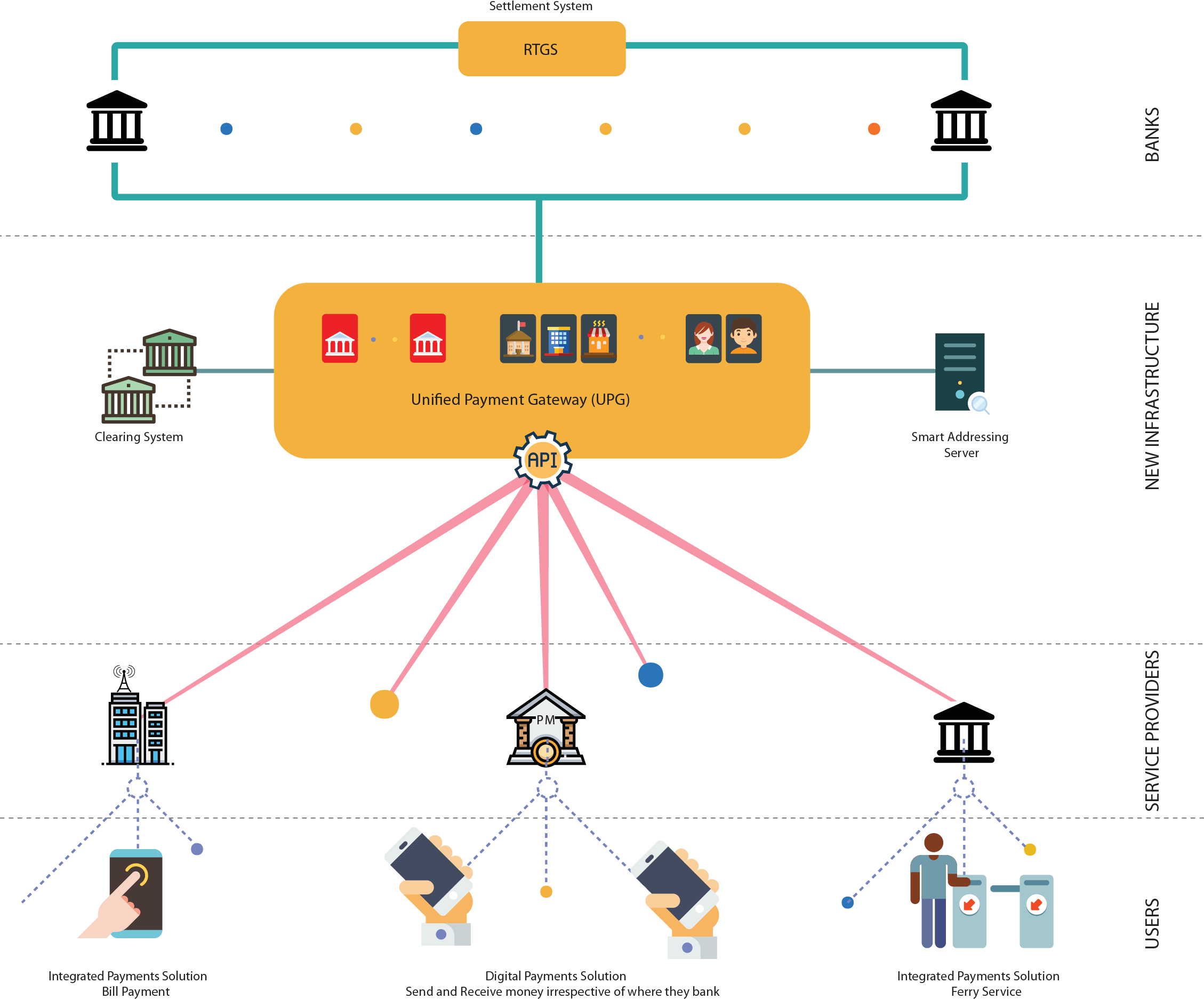 The second phase of the project will be the development of mulitple digital solutions which will allow users to make and receive payments instantly irrespective of where they hold their bank accounts in the Maldives. A digital solution simply provides the facility of making payments without other add-on services or functionality. The solution will utilize the accounts structure within the system, meaning that all entities in the Maldives will have a fast and reliable option for making payments. Users accounts will be linked to their respective bank accounts, and funds can be transferred between the central system account and bank accounts in a number of ways.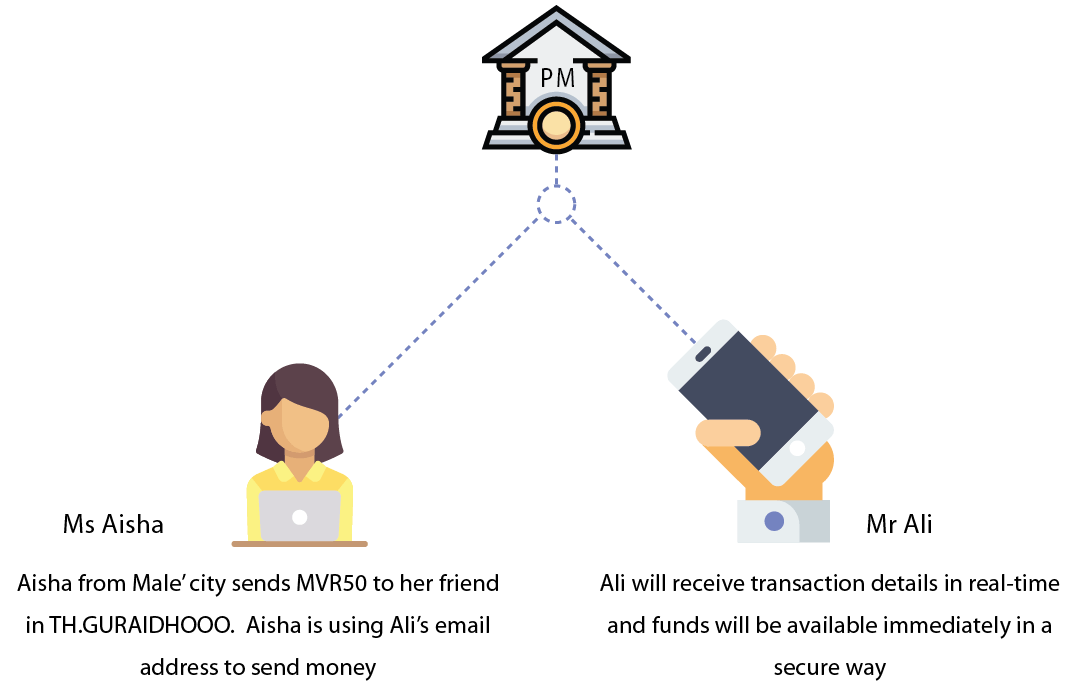 Fund Transfer Options

Mirroring with bank accounts
The bank account balance will be fully reflected in the account within the payments system.

Manually topping up
Users top up an amount of their choosing by debiting from their bank account and crediting to their account within the payments system.

Setting a minimum threshold
The system automatically tops up the account within the payments system whenever the balance falls below the threshold set by the user.

Transfer money to bank accounts
Users will be able to transfer money from their central account within the payments system to their respective bank accounts.

International cards
Users top up their central account within the payments system by using an international card scheme.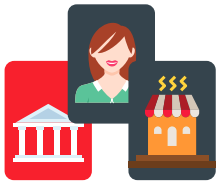 Account to account
Users will be able to send and receive money from the central account of any other entity in the Maldives.
Wholesale Payments
Wholesale payments are generally large value payments made by corporate entities. A solution intended to be an electronic alternative for cheques will be available where the payment initiator and approver can be different individuals from the payee's side.
Dream Construction Pvt. Ltd. paying MVR 200,000 to Cement Factory

Payment Gateway
Local internet payments gateway will be introduced, which will provide users the option to use the local scheme to make online payments.

Self-Service Terminals
These terminals will be available in all inhabited islands at convenient locations, mainly to facilitate Know-Your-Customer procedures via fingerprint verification. Apart from this, all payment services that can be availed from the digital solution will be available through the self-service terminals.
Ahmed uses the self-service-terminal in Dh.Hulhudheli to validate his identity and activate all functions of the payments app

Solution For Tourists
Tourists will receive an identifier, such as a smart card upon arrival in the Maldives. The card can be topped up using international card schemes, which can then be used to make domestic payments. The solution will enable all digital and integrated solutions and eliminate multiple card transaction charges and foreign exchange conversion charges.
John rents water sport equipment using the local smart card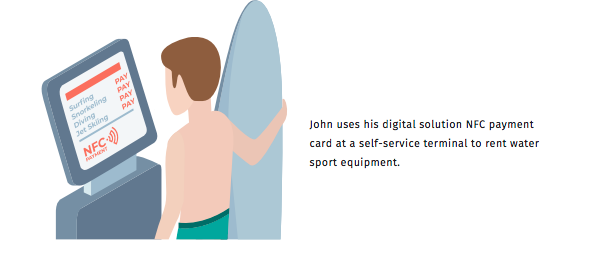 The third phase of the project will be the development of a number of integrated solutions to cater for selected segments of the payments domain. Integrated solutions seamlessly combine the payment process and value-added services that consumers demand, to provide convenient and packaged solutions. Strategic areas with a lack of market driven incentives and areas with potential for maximum impact on users will be prioritized when deciding on the underlying use-cases of the solutions. Possible integrated solutions could be geared towards catering for payments due at regular frequencies and the payments for transportation services, coupled with value-added services
Solution for Regular Payments
All types of regular payments, such as utility bills, rent and recurring government fees, can be paid through this solution.